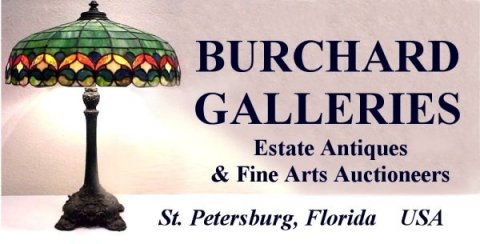 ---
Offices & Showroom - 2528 30th Avenue North - St. Petersburg, Florida 33713
727-821-1167 1-800-520-2787
Colossal On Site Only Multi-Estate Antique & Discovery Auction
Saturday March 23rd, 2019 8:30 AM- Till?
Preview: 8 AM 3/23 Day of Sale
Featuring, both days, the continuing unreserved Auction of The Estate of Marija Alexandra and Dr. Peter J. Fischinger MD, Ph. D, as well as the contents of a 15,000 sq. ft. Orlando Waterfront Mansion. Over 400 lots to include a stellar assortment of vintage Estate Antiques, Artwork, Jewelry, Pottery, & More much of which will be arriving at the gallery right on up to Auction Day all in addition to our normal array of spectacular items shown selling at No Reserves!

Oriental Furniture; Asian Chocolate Cabinet; Ball & Claw Ottoman; Baker Commode; Black Metal Patio Table & Chairs; Bombe Chests with Mirrors; Boss Block Butcher Block; Brass Butlers Stand; Cast Metal Bar Stools; Carved Oak Sideboards; Chippendale Drop Leaf Table; Cloisonne; Chippendale Chairs; Drop Lid Desk with Gallery; Dutch Bombe Desk; French Bergere Chairs; Italian Nesting Tables (3), Revival Carved Throne Chair, and Italian Tea Cart; Large Wrought Iron and Round Glass Parlor Table; Louis XVI Style Marble Top Fern Stands; Lucite Tables; Mahogany Spider Leg and Tambour Tables; Marble Top Metal Mounted Tables and Night Stands; Oak Hall Tree; Onyx Pedestal; Patio Chaise Loungers; Victorian Decorated Cabinet; Victorian Etageres; Deco Lady Mirror; Winged Cherub Mirror; Wrought Iron Marble Top Foyer Table; 3 Piece White Patio Cast Metal Sets; 4 Chaise Lounges; 5 Piece Wicker Set (Brown); 5 Piece Cast Metal Patio Set with Umbrella; French Fauteuils; Early Aubusson Flower Filled Tapestry; Estate Oriental Carpets, Large Peacock Rug; Spanish "Manica Shawl"; English Cast Iron Royal Mailbox; Old Books; Inkwell Collection; Blanc De Chine Sevres Figural Centerpiece; Ceramic Pottery by Jorge; Royal Bayreuth and Snow Lambs; Royal Doulton "Bunnykins"; Libby Candlesticks; Silver Plate Tea Service; Souvenir Spoons; Asian Celadon Double Handle Vase; Herend Porcelain; Large Cloisonne Vases; Capo Di Monte Lamps; Crystal lamps; Cranberry Candle Lamps; Deco Style Bare Breasted Woman Lamp; Gone with the Wind Red Satin Lamp; Old Paris Lamps; Jimmy Dorsey Autograph Pr of Nude Fan Lamps; Oriental Fish Bowls; Bjorn Winblad Rosenthal Mid Century Vases; Vintage Slag Glass and Reverse Painted Lamps; Perfume Bottles; Cranberry & Crystal Decanters; Bohemian Cut to Clear; Etched Glass Tantalus; Glass Animals; Murano Glass; Cut Glass Umbrella Stands; Tin Types; Waterford; Imperial Clock Set; LeCoultre Clock; Rock Clock; Lalique Crystal Pendulette Jungle Clock; Lladros and Neo Don Quixote Figures; 18th Century Map of Pannonia; Camel Whip; Mortar and Pestals; Folding Fireplace Fan; Mahogany Electric Fireplace; Nautical Antiques: 3rd Lung Scuba Gear; Ship's Wheel, etc.; Canes 20+; Knife Collection; Sevres Style Dresser Box; Timex Watch Showcase; Miscellaneous Sterling Lots; Large Lot of Loose Gemstones, 200+, Sold in Lots; 14K & Diamond Ring; Gold Earrings; Diamond and Gemstone Jewelry and LOADS VINTAGE COSTUME JEWELRY! An Amazing Auction you won't want to miss!

Also, 100+ Quality Works of Art: Oils, WCs, Prints & Etchings, Lithographs, Woodcuts: Bronzes after BERGMAN; Alain BONNEFOIT Female Nude Lithograph; Georges BRAQUE Litho; CASTELLI Surreal Lithos; Mervin CORNING Litho: Leon DANCHIN Ducks;; HUNTER Clipper ships; Jim JOHNSON Tennis Lithos; William KRULLAARS; LOCKHART America's Cup Lithos; Raymond LOEWY; Allan MARDON Sporting Lithos; Peter MAX Marathon Poster; Parrish Litho; Leroy NEIMAN Poster; Ronni PASTORINI; William PUCKETT Pen & Ink; Cesar RICCIARDI; James SEEMAN; Raphael SOYER; American Etching Lots; Architectural Prints; Botanical Engravings; GOULD Bird Prints; Hockey Lithos; Nude Woman Bronze; Tarzan Poster; Winged Cherub Bronzes; All selling at NO Reserves. These Estates Must Be Sold! NOTE: If we do not have your email address, please send it to mail@burchardgalleries.com to receive the latest updates.

It's going to be another GREAT DAY AT THE AUCTION! See You There!!

*NOTE: More arriving! Only about 20% (for real!) of what is available on Saturday is represented here. Please check the Web Site, better yet, come see us at the preview as well. Furniture & Art beginning at 8:30 AM. Art requests at any time. All other requests taken at 10:00 AM. ABSOLUTELY NO RESERVES!

Calling all E-Bayers! This is "THE PLACE TO BUY!! Absentee Bids Accepted
Quality Consignments Always Welcome | 727-821-1167 | mail@BurchardGalleries.com
Just a Sample...
Sunday February 24th Auction Catalogs
Always Accepting Quality Consignments 727-821-1167
burchard galleries home | calendar of events | bid information | directions
mailing list | consignment info | Auction archives | site map | the company
All rights reserved. Copyright © Burchard Galleries, Inc. 1996-2019
Florida License #AU322/AB169