BURCHARD GALLERIES INC
International Estate Antiques
& Fine Art Auctioneers
---
Offices & Showroom - 2528 30th Avenue North - St. Petersburg, Florida 33713
727-821-1167 1-800-520-2787

Sunday, June 17, 2018
Jewelry Only Catalog To Date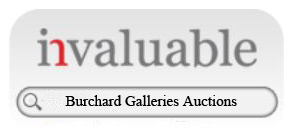 [Lot 1001 - 1050] | Lot 1050 - 1100 | Lot 1100 - 1150 | Lot 1150 - 1200 | Lot 1200 - 1250

Complete Catalog To Date

Absentee Bid Form Here Back to Burchard Galleries Home Page


TO SEARCH THIS PAGE: Please press CTRL F and enter a key word.
Lot

Descriptions..... More Items, Pictures and Description details added daily

1001
14K & SILVER VICTORIAN DIAMOND SAPPHIRE SALAMANDER PIN: Beautifully detailed silver salamander is encrusted with 136 irregular and rose cut diamonds, 10 native cut sapphires, 1 native cut sapphire and 1 native cut emerald. Total diamond weight approx 1.00 CTW and total gemstone weight approx 1.98 CTW. 14K pin with chain. Measures approx 1 15/16'' long X 1 1/4'' wide. Weight approx 9.3 grams. This beautiful Salamander Brooch once belonged to the wife of Yves George Prade, Vice President of the Municipal Council of Paris and of the General Council of the Seine. He also served as Secretary of the Management of the Bank of Paris and the Netherlands and was the Director of Mumm Champagne. Consigned by direct a descendant of Yves George Prade. Sold with current Atlanta Gemological GIA graduate's appraisal for $2500.
CONDITION: 3 toes are missing. Otherwise in good condition.
1030
STERLING OPAL NECKLACE & EARRING SET: Sterling silver necklace and earring set contains 39 oval cabochon cut opals. WEIGHT: 20.00 Ct. Approx. Origin of the opals is unknown. The opals are prong set. Length: 18'' Weight: 64.0 grams.
1050
17'' FRESH WATER BAROQUE PEARL NECKLACE: 20 white Baroque pearls in this necklace range in size from 13-15mm. The luster is excellent and the matching is very good. 17'' long. Sold with American International Gemological Laboratories, Inc. appraisal for $2800. Est. $1000/2800**
---
[Lot 1001 - 1050] | Lot 1050 - 1100 | Lot 1100 - 1150 | Lot 1150 - 1200 | Lot 1200 - 1250
Absentee & Phone Bids Welcome.
Please be our guest and request your
Absentee Bid Form Here

or bid Live on the Internet!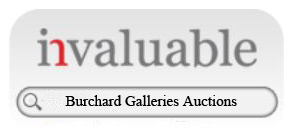 All announcements from the Auction block will take precedence over any printed material.

All sales are tape recorded. Our printed materials (i.e. Partial Catalogs, Catalogs & Advertisements) are meant merely as a guide. The Auctioneers do not warrant the accuracy, genuineness, authenticity, condition, description, weight, count or measure of any of the lots specified herein. We recommend that you make a personal examination of the objects for which you wish to bid. Please make yourself familiar with the merchandise you are bidding on, together with the terms and conditions. Please determine condition, genuineness and/or authenticity BEFORE you bid as all items are sold "As is, Where is"! Statements made by Auctioneer and/or staff of Auctioneer are opinions only and should not be construed as statements of fact. ** Denotes items that are being offered subject to reserve. Reserves are always lower than the lowest estimate.

For more information, contact: Burchard Galleries.
Last updated Friday, June 15, 2018