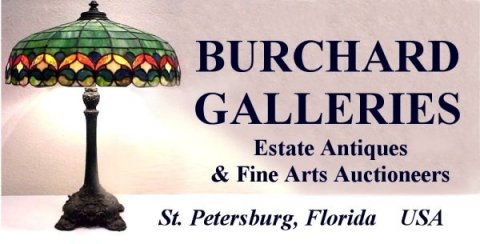 "The Cutting Edge of Acquisition"
Offices & Showroom - 2528 30th Avenue North - St. Petersburg, Florida 33713
727-821-1167 800-520-ARTS (2787)

Directions Shipping Information Auction Archives Burchard Galleries Home

GET AUCTION FEVER!

2015 Auction Calendar
Saturday March 21st 8:30 AM Marathon Multi-Estate Discovery Auction
Preview: 3/21 8:00 AM
Sunday March 22nd 12:00 PM Estates, Vintage Antiques, Fine Art & Jewelry
Full Catalog to Date Full Art Catalog to Date Full Jewelry Catalog to Date
Preview: Sat 3/21 1-6 PM Sun 3/22 10 AM
St Petersburg FL … The place to be and well worth the Drive! Vintage Estate Antiques and Artwork Galore! Artists represented include James AKSTON, Professor Alberto CAMBI, Frank CARMELITANO, Robert GRAHAM, glass artist Susan PELISH; Jim LEWK, Gaston SEBIRE, Baron Carlo MAROCHETTI, Morris Hall PANCOAST, Several South African Artists, a Collection of Laurie Regan CHASE original paintings, and many Florida Highwayman paintings. Just a sample of the more than 100 important 18th, 19th, and 20th C. Original Oils, Watercolors, Icons, Bronzes, Sculpture, Photographs, Prints, Drawings and more included in this 500+ Lot "Fresh to the Market" Auction! Over 90% of this Auction offered at No Reserve!
Also featured in this March Auction Extravaganza… A Stellar Collection of richly carved Victorian furnishings from waterfront estates in Tampa and Lutz, FL. Vintage Golden Quarter Sawn Oak Curios, Bookcases, Princess Dressers, Fancy Oak Pews and more.. French Ormolu Furniture; Important Figural Clocks; Oriental Rugs, Furniture & Screens; Satsuma & Cloisonné; Tiffany & Loetz Art Glass; Huge Meissen Blue & White China Service; Large Majolica Collection; Vintage Lighting; Lladro & Royal Doulton; Stained Glass; Luxurious Furs; Sumptuous Gold, Platinum, and Large Diamond Jewelry and Gemstone Jewelry from around the world; Luxury Watches; and more! It will most certainly be another "Unbelievable Auction Weekend"! See you there!
Quality Consignments Always Welcome
March 22nd Action held Live and Online @ LiveAuctioneers.com and Invaluable.com
Treat yourself to a huge assortment of estate fresh treasure that "Must Be Sold" and the best part is… "You Name The Price"! Bring your trucks!
For details: 727-821-1167, mail@BurchardGalleries.com or www.BurchardGalleries.com
Quality Consignments Always Welcome!
●March 21/22 ●April 18/19 ●May 16/17
●June 27/28
●July 25/26
●August 22/23
burchard galleries home ● calendar of events ● bid information ● directions

● mailing list ● consignment info ● Auction archives ● site map ● the company

---

All rights reserved. Copyright © Burchard Galleries Inc. 1996-2015