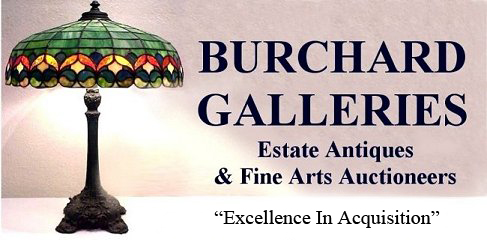 Offices & Showroom 2522-2528 30th Avenue North St. Petersburg, Florida 33713
727-821-1167



Directions

|

Shipping Information

|

Auction Archives

|

Burchard Galleries Home

| September 13 Auction Results
<![if !vml]> <![endif]>
<![if !vml]>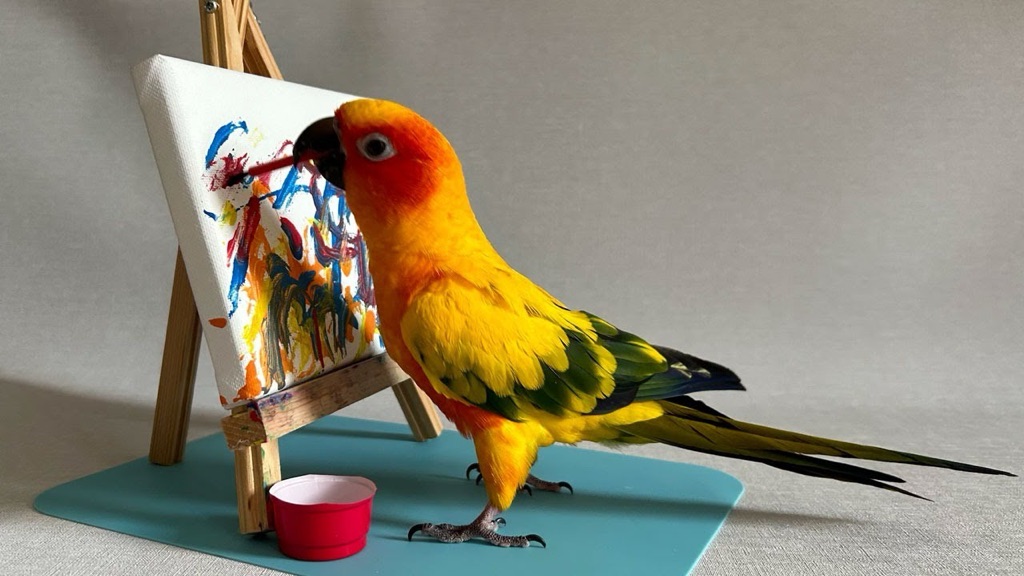 <![endif]> <![if !vml]>

<![endif]> <![if !vml]>

<![endif]> <![if !vml]>

<![endif]>
Private Real Estate Auction Beverly Hills FL <click here
Estate Antiques Fine Art & Jewelry Auction Events
October 18th 12 PM Estate Antiques Fine Art Jewelry Auction
Live Audience (w/ social distancing), Online, Phone & Absentee Bidding Available
Live Preview: Beginning October 14th 12 PM - October 17th 12 PM - 6 PM by appointment
Ad1 | Ad2 | Full Auction Catalog to Date | Fine Art Only | Jewelry | Russian Silver & Objects de Virtue
3 HUGE ESTATES! 550+ Lots! Overwhelming Lifelong Collections of Museum Quality Treasures as well as the contents of a Lakeland FL. Lake Hollingswoth Mansion! Vintage Lighting: 15 Art Glass Lamps to include Tiffany, Handel, Pairpoint, LeGras, Schneider & more; Large Floor Lamp signed Tiffany; Art Glass: Much Tiffany, Galle, Mont Joye, Steuben, Moser, Baccarat, Lalique, more to come; Philip & Kelvin Laverne Chinese Spring Festival Table; Carved Marble Statuary; 1901 Stieff/Shaw 6'7, Grand Piano; Large collection of European Porcelains: Sevres Dresden, Meissen, Capo-di Monte; Satsuma Porcelains; Ginbari Cloisonne; 100+ Perfume Bottles and Large Factices; Antique Chinese Carved Jade; Snuff Bottles; Moon Phase Grandfather & Herman Miller Clocks; Elegant 920's French Dining & Bedroom Furnishings; Antique Carved Ivories; KPM Porcelain Plaques; Kestner Boy Doll; Asian Bronzes; Mougin Brothers French Pottery; Miniature Clocks; Vintage Victorian & Deco Purses; African Masks, Sculpture & Artworks; Sterling Silver Services; Sterling Overlay Flasks; Estate Oriental Carpets; Palatial Chandeliers; Georg Jensen Sterling Service; Russian Sterling Silver Objects De Vertu including Faberge; Diamond Wristwatches; Over 75 Lots of Fine Estate Jewelry: Diamond Brooches & Rings; Mexican & Southwest Indian Jewelry; Orianne Gemstone Jewelry; Fantastic Emerald & Diamond Bracelet; and more. be a part of the Action! Save the Date! Stay Tuned for More Details!

Lifetime Estate Art Collections: 100+ Works of Art to include important Paintings, Prints, and Sculpture by Modern Masters such as: Ted COCONIS; Pierre DE BELAY; Eugene LANCERAG; Nikolai LIEBERICH Bronze Bear; Josef LORENZL; Peter MAX; Pierre Jules MENE; MIRO; August PETTENKOFEN; Henry Robertson CRAIG; Walter SCHOTT; David STRIBBLING; David TUTWILER; Sir David WILKIE; David Bruno ZACH; as well as listed and exhibited Artists. Details to follow. Stay Tuned, Watch for updates! It will most certainly be another "Unbelievable Auction Weekend"!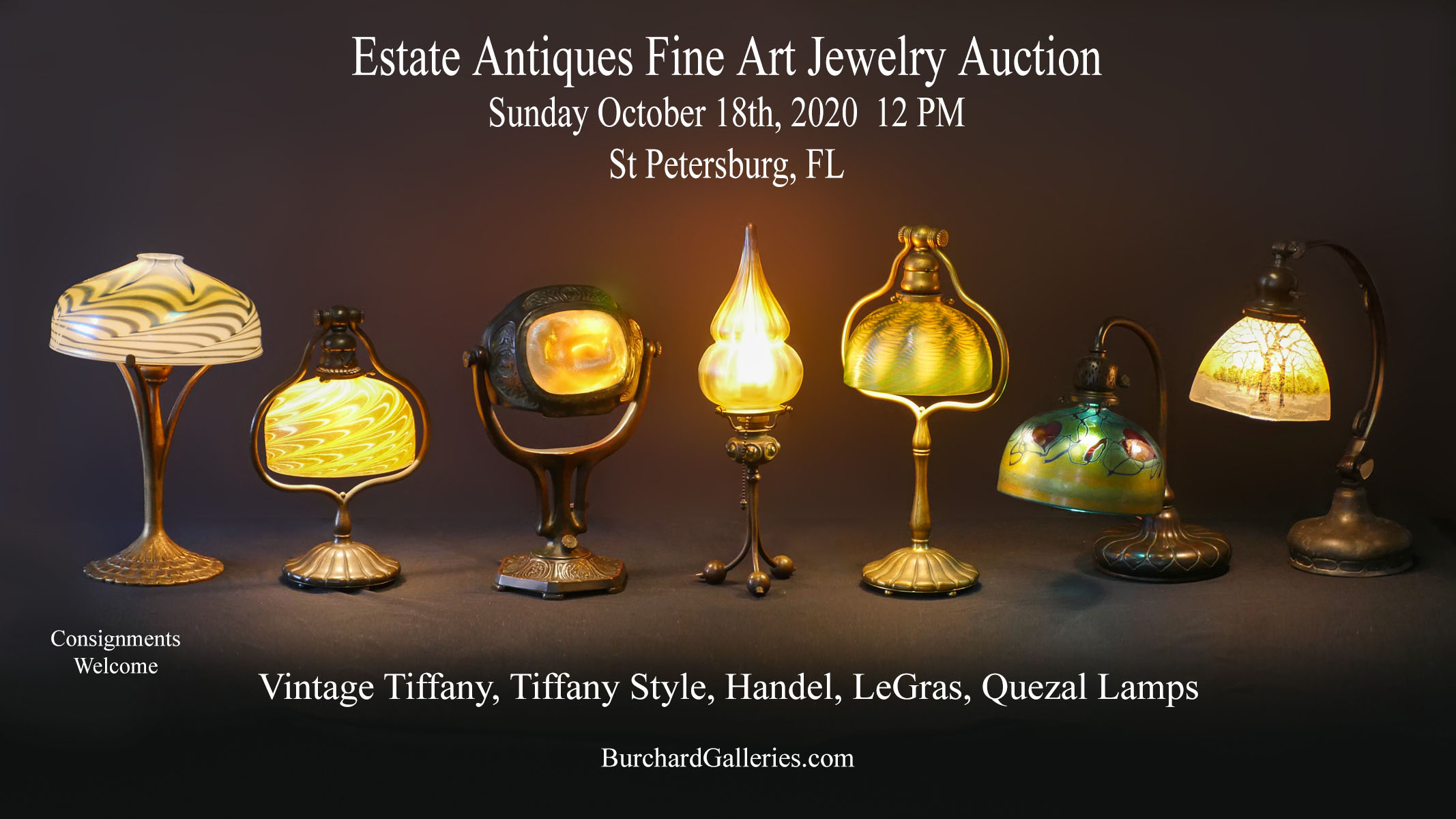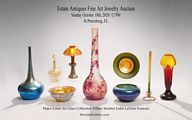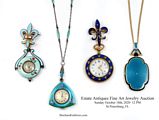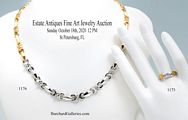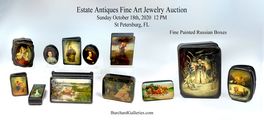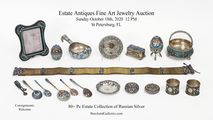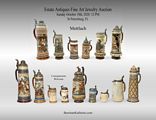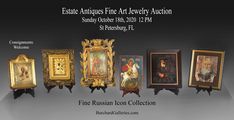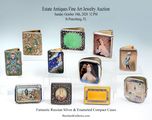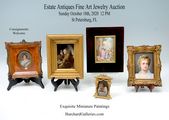 Burchard Galleries will be conducting our October 18th Antiques Fine Art and Jewelry Auction with a Live Audience (with social distancing) and On-Line as well as Phone and Absentee bid formats. Click the links for Absentee and Phone Bidding Forms as well as instructions on How to Become an On-line Bidder. Please see our photo gallery available for each lot. Please note: Live Auction Preview beginning Wednesday, October 14th at 12 PM by appointment through Saturday October 17th 12 PM-6 PM. Please note that masks are required, and 6 ft social distancing rules apply. Call 727-821-1167 for information and be sure to watch for updates to this information.
Consignments welcome for this and future International Antiques & Fine Art Auction Events BurchardGalleries.com 727-821-1167

On Line Bidding Available October 2nd at 5 PM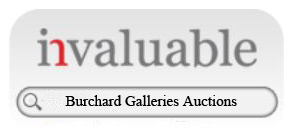 ---
For details: 727-821-1167 mail@BurchardGalleries.com
Quality Consignments Always Welcome! Items We Need
Upcoming Auctions
●Oct 18 ●Nov 14/15 ●Dec 12/13
burchard galleries home | calendar of events | bid information | directions
mailing list | consignment info | Auction archives | site map | the company
727-821-1167 800-520-2787
---

All rights reserved. Copyright © Burchard Galleries Inc. 1996-2020