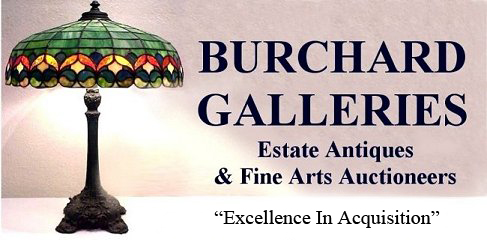 Offices & Showroom 2522-2528 30th Avenue North St. Petersburg, Florida 33713
727-821-1167



Directions|
|
Shipping Information
|
Auction Archives
|
Burchard Galleries Home

| May 26th Auction Results
<![if !vml]>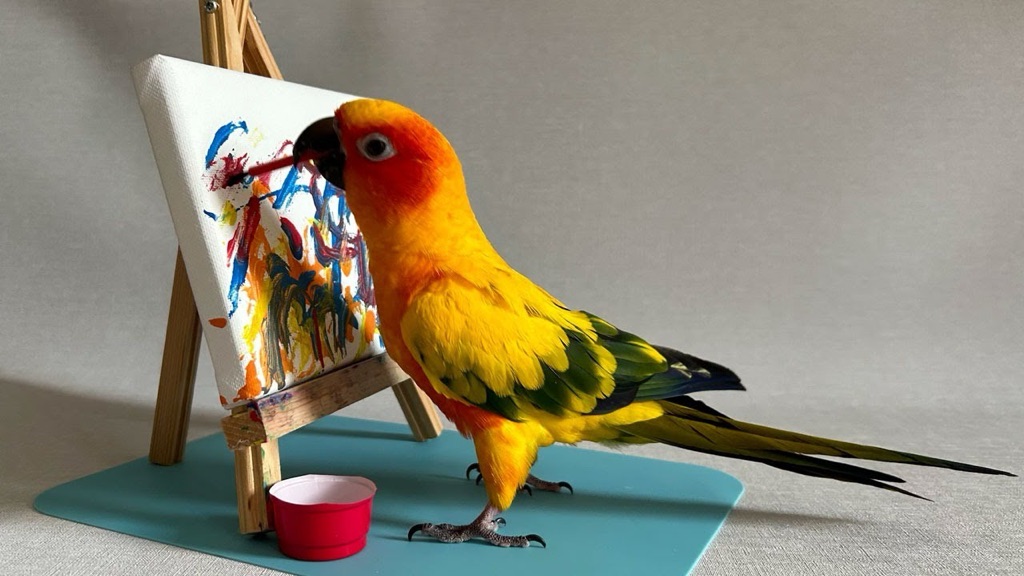 <![endif]> <![if !vml]>

<![endif]> <![if !vml]>

<![endif]> <![if !vml]>

<![endif]>
Spectacular Upcoming Auctions
1) Saturday June 15th 10 AM Real Estate Auction 4 Acres on the Peace River
Arcadia, Fl 8900+ Sq Ft Home & Contents Pictures on AuctionZip.com
2) Saturday June 29th 8:30 AM Multi-Estate Discovery Auction
Preview: 8 AM Day of Sale Consignments Welcome
3) Sunday June 30th 12 PM Estate Antiques Fine Art & Jewelry Auction
Preview: 1 PM 6/29 10 AM Day of Sale Consignments Welcome
Full Auction Catalog to Date | Fine Art Only | Jewelry Only
Featuring Lifelong Estate Collections and Museum deaccessions, along with 150+ Artworks to include important Paintings, Prints, and Sculpture by Modern Masters as well as listed and exhibited Artists. Included will be works by Andre BAYLON; Alexander CALDER Litho; Carl DUXA; W. Harold HANCOCK; Sister Corrita KENT; Linda LE KINFF; Yves LOHE Large Glass Sculpture; Phyllis LONDRAVILLE; Peter MAX; Paul Desiree TROUILLEBERT, Walter Henry WILLIAMS; Florida HIGHWAYMEN; Beautiful Carved Marble Statuary; Life-size Bronze Sculptures such as "Gilding The Eagle" After Norman Rockwell and a 6' Tall Remington Mountain Man more..

Major Truckloads of Furniture, Art, Bronzes and more from estates all across Florida as well as Major Museum Deaccessions and more. This Spectacular Auction will include The Best Victorian John Jelliff quality Renaissance Carved Sofa we've seen to date; 2 Belgian Carved Oak Court Cupboards; French Metal Mounted Louis XV Desk and Lingerie Cabinet; Vintage Tiffany Style Lamps; Arts & Crafts Furniture; Victorian Walnut Etageres and Cabinets; Pottier & Stymus Style Victorian Parlor Suite; Art Deco Collection, Frankart etc.; Sterling Silver Services; French Clocks Garnitures; Albert Einstein Photos and Autograph; John Hancock Autograph; Museum deaccessioned Chas M. Steiff Inlaid Square Grand Pianos; Paperweight Collection; Oriental Porcelains: Ming, Qing, Song eras; Meiji Period 96" Tall 8 Panel Oriental Screen; Waterford Glass; Rosenthal Porcelain Dinner Services; Art Pottery: Roseville, Rookwood; 20+ Fine Estate Oriental & Persian Rugs; Fine Estate Jewelry: South Sea Pearls, Spectacular Diamond Rings; Gold, Silver, Costume and more. Plus a MEGA, MEGA LARGE Collection of Boston Sports fan memorabilia including World Series Programs, Boston Red Sox Yearbooks and Programs, Complete and partial sets of Topps, Donruss, Fleer, etc. Some early years 1950's -1980's, autographed baseballs, Notre Dame collection, Hess Trucks, Huge collection of Sports Illustrated magazines in good to excellent condition, dating back to the early 70's, lots of very good 70's baseball star cards in good to mint condition, Mickey Mantle, Pete Rose, Tom Seaver, cards, balls, memorabilia, Derek Jeter Rookie Card, literally a carload! Watch for updates! It will most certainly be another "Unbelievable Auction Weekend"!

On Line Bidding Available Now!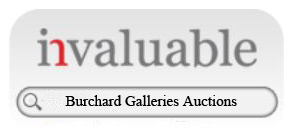 For details: 727-821-1167, mail@BurchardGalleries.com or www.BurchardGalleries.com
Quality Consignments Always Welcome! Items We Need
Auction 1) Real Estate Auction June 15th 10 AM 4 Acres on the Peace River
Arcadia Florida Home & Contents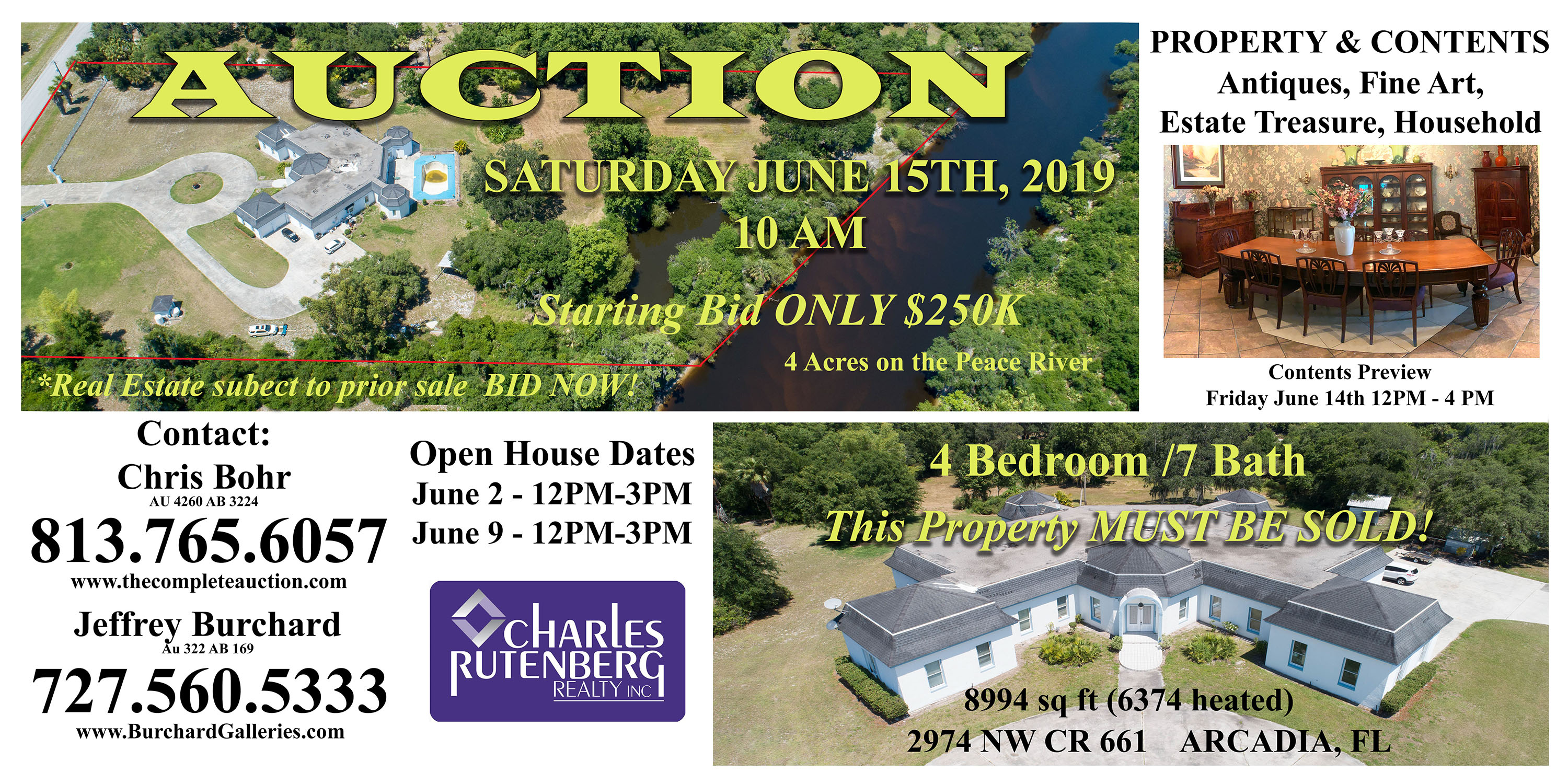 Upcoming Auctions
●Real Estate June 15th ●Jun 29/30 ●Jul 27/28 ●Aug 24/25 ●Sep 21/22 ●Oct 19/20 ●Nov 16/17 ●Dec 14/15
burchard galleries home | calendar of events | bid information | directions
mailing list | consignment info | Auction archives | site map | the company
727-821-1167
800-520-2787
---

All rights reserved. Copyright © Burchard Galleries Inc. 1996-2019