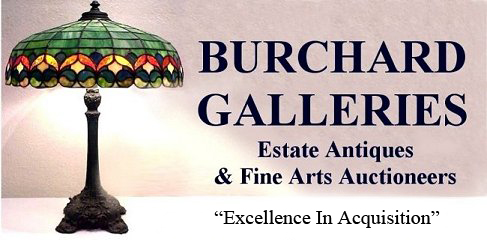 Offices & Showroom 2522-2528 30th Avenue North St. Petersburg, Florida 33713
727-821-1167



Directions

|

Shipping Information

|

Auction Archives

|

Burchard Galleries Home

|
<![if !vml]>
September 12th, 2021 Results
<![endif]>
<![if !vml]>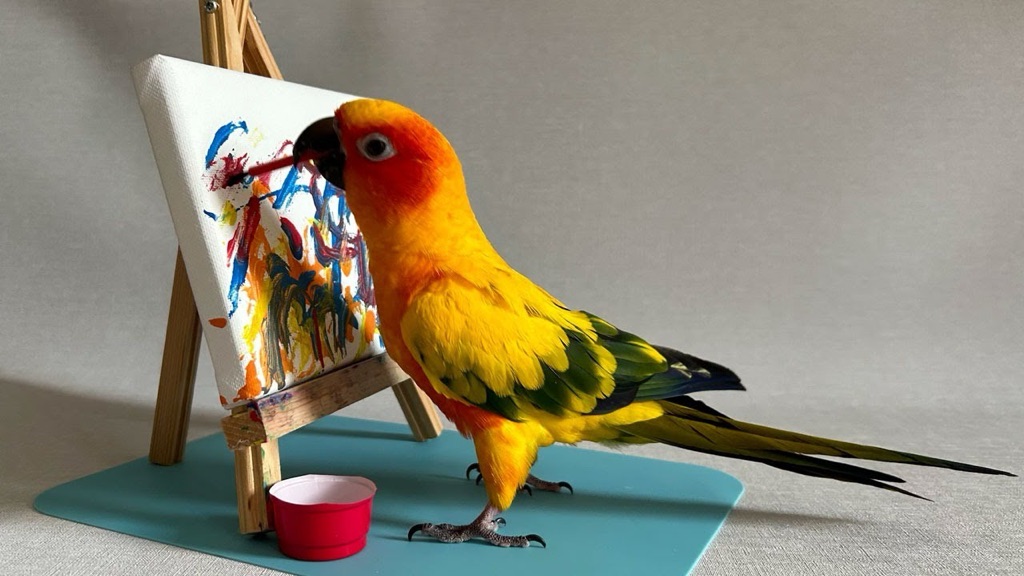 <![endif]> <![if !vml]>

<![endif]> <![if !vml]>

<![endif]> <![if !vml]>

<![endif]>
Upcoming Gallery Auctions
---
Flyer1 | Flyer2 | Video 1 | Video 2

Gatsby Themed Halloween Costumed Attire. Come have some fun and get some Great Deals. 571 Lots!

October 17th, 2021 Estate Antiques Fine Art Jewelry Auction Bonanza

Live Auction, Live Preview (with Social Distancing, masks optional) Previews: TODAY 10/16 1 PM - 6 PM; 10/17 10 AM - 12PM 727-821-1167

Full Catalog to Date | Jewelry Only | Fine Art Only | Knives | Coins | International Ad

Our October 17th Estate Antiques Fine Art & Jewelry Auction promises to be a great chance to acquire the Treasures of Your Dreams. 6 Pc Baker Formal Mahogany Dining Suite; Welte Mignon Baby Grand Player Piano; Vintage Lighting; Estate Oriental Rugs; Tommy Bahama; Chinese Wedding Bed; Finely Carved Queen Size Canopy Bed; 18th Century Mahogany 11 Drawer Chest On Chest; Arts & Crafts Desk; Venetian Glass Sconces; Art Deco Burlwood Furniture; Antique National Cash Register; 2, 5 Stack Barrister Bookcases; Oak Triple Bowfront; Zenith Radio; English Stick Barometer; Cor-Cor Pressed Steel Car; Tansu Chest; Cloisonne; Chinese Wax Seals, Large Quantity of Perfumes; Fine Qing Dynasty Porcelains; Chinese Jade Pendants & Belt Buckle; Royal Doulton; Murano; Massive 280 Pc Hummel Collection; English Spyglass; Antique Leather Books & Maps; Victorian Double-Sided Secretary; Pr L & JG Stickley Oak Armchairs; Wilkinson Co. Leaded Glass Rose Lamp; Waterford Collection; Lalique; Baccarat; Early Duncan McLellan Art Glass Vase; Lane Wicker Chairs & Ottoman; 1950's Bowman Baseball & Football Cards; Seeburg Jukebox; Eastman Kodak Century Studio Camera; Slot Machine; Theodore Alexander Buffet; Massive Knife Collection; Gold Scales; Paul Evans Coffee Table; Warren Platner, Milo Baughman, Herman Miller, Mourgue; Avanti & Natuzzi Leather; Important Southwestern Pottery; American & Chinese Gold Coins; Stieff Repousse & Lunt Sterling Silver Flatware; Frank Whiting Sterling Candelabras; Huge Collection of Hand painted porcelain plaques by Artist Carole Scott; Nippon; Saint Gaudens Double Eagle, Liberty Head Half Eagle Gold Coins; American Gold Bullion Coin Sets; Gold Proof Coins; Chinese Gold Panda Proof Sets; 100 & 50 Yuan Gold Coins; Large Collection of Rare Advertising Tins; Diamond Dyes & Forest Spool Cabinets; Jewelry: Platinum Art Deco Diamond Ring; Platinum & 18K Diamond Ring by Schlumberger for Tiffany; Platinum & 18K Necklace & Ear Clips with Fancy Yellow Diamonds; 18K 20 CTW Ruby Ear Clips; Ladies Brock & Co Platinum Watch; 18K Bvlgari Pendant; 18K Skal Onyx Ear Clips; Vintage Chanel & Gucci fashion items and Much More.

Over 100 plus artworks to include: William Verplanck BIRNEY; Al BLACK; Esa BLICK; Lee CABLE; Eugenio CARMI; Mary Ann CARROLL; Charles CHAPIN; James CROMARTIE; Salvador DALI; Willie DANIELS; Oscar DI PRATA; Ben ESSENBURG; Ben FOSTER; Tom FREEMAN; Emmett FRITZ; Peter GROSS; Trevor HADDON; Werner HOLZBAUR; JAMALI; Clifton KARHU; B.C. KOEK KOEK; KOITSU; Edmund Darch LEWIS; Peter MAX: Duncan

McClellan

; Joan MIRO; Jules MOIGNIEZ; Robert Lyn

Nelson

; Sam NEWTON; Jose PINEDA; Pete PLASTOW; Felix RAMOS; Alex SCHLOSS; Carole SCOTT; Calman SHEMI; Irene SHERI; James SIEBERT; Verne TOSSEY; Catharine MORRIS WHITE; and a large estate fresh collection of bronzes you won't want to miss

.

Info at BurchardGalleries.com. Due to the current concerns and restrictions regarding the COVID-19 Virus, Burchard Galleries will be conducting our October 17th Antiques Fine Art and Jewelry Auction with a limited capacity, Live Audience (with social distancing and masks optional), on a first come, first served basis with Appointments taking precedence, as well as On-Line, Phone and Absentee bid formats. Please note: Live Auction Previews are on a first come, first served basis with Appointments taking precedence and will begin Friday 10/15 1-5 PM, Saturday 10/16 1 PM- 6 PM and Sunday 10/17 10 AM-12 Noon. Masks are optional, 6 ft social distancing rules apply. Call 727-821-1167 for information and be sure to watch for updates to this information.
On Line Bidding Available NOW!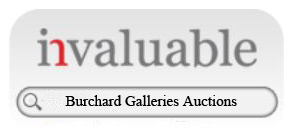 _______________________________________________________________________________________________
Consignments Welcome
for these and future International Antiques & Fine Art Auction Events BurchardGalleries.com 727-821-1167

For details: 727-821-1167 mail@BurchardGalleries.com
Upcoming Gallery Auctions
●Oct 17 ●Nov 14 ●Nov 20 ●Dec 11/12
Quality Consignments Always Welcome!
Items We Need
burchard galleries home | calendar of events | bid information | directions
mailing list | consignment info | Auction archives | site map | the company
727-821-1167 800-520-2787
---

All rights reserved. Copyright © Burchard Galleries Inc. 1996-2021