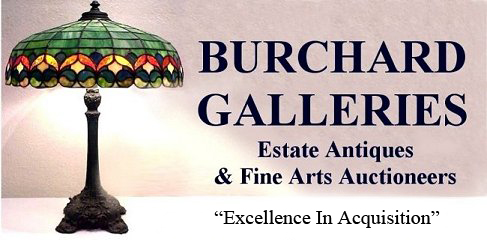 "The Cutting Edge of Acquisition"
Offices & Showroom 2528 30th Avenue North St. Petersburg, Florida 33713 727-821-1167 1-800-520-2787
Directions Shipping Information Auction Archives Burchard Galleries Home
2016 Auction Schedule
Sat May 21st 8:30 AM Marathon Multi-Estate Discovery Auction
Preview: 8 AM
Consignments Welcome
Sun May 22nd 12 PM Vintage Estate Antiques Fine Art & Jewelry Auction Live and On-Line
Preview: 5/21 1-6 PM
5/22 10 AM Consignments Welcome
Full Auction Catalog to date Fine Art Only Catalog to date Jewelry Only Catalog to date
St Petersburg FL … The place to be and well worth the Drive! Our May 22nd Auction features Artworks and Treasure from a prominent Palm Harbor Doctor's Estate as well as items from the estate collection of former Tiffany Furnaces Employee Rene Lothier. In this Auction…Antique Dolls; Rare Paperweights; Tiffany and Steuben Art Glass; Oriental Rugs; and of course, a huge assortment of Stunning Estate Gold and Diamond Jewelry.
Also over 150 Works of Art: Important 18th, 19th, and 20th C. Original Oils, Watercolors, Bronzes, Sculpture, Photographs, Prints, and Drawings and more will be on the Auction Block. Artists represented: ERTE; Peter MAX, Benson Bond MOORE; Star Liana YORK; AND SO MUCH MORE!! These are just a few highlights of this "Fresh to the Market" Auction you won't want to miss. It will most certainly be another "Unbelievable Auction Weekend"! See You There!
For details: 727-821-1167, mail@BurchardGalleries.com or www.BurchardGalleries.com
Quality Consignments Always Welcome!
●May 21/22 ●Jun 25/26
●Jul
23/24 ●Aug 20/21 ●Sep 17/18 ●Oct 15/16 ●Nov 12/13 ●Dec 10/11
burchard galleries home ● calendar of events ● bid information ● directions
● mailing list ● consignment info ● Auction Archives ● site map ● the company
---

All rights reserved. Copyright © Burchard Galleries Inc. 1996-2016