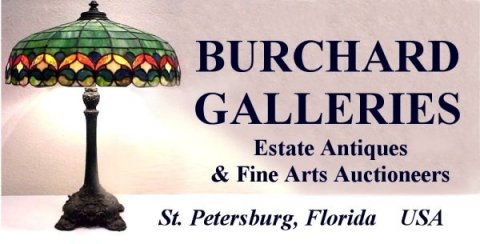 ---
Offices & Showroom - 2528 30th Avenue North - St. Petersburg, Florida 33713
727-821-1167 1-800-520-2787
On Site Marathon Multi-Estate Vintage Antique & Discovery Auction
Saturday August 19th, 2017 @ 8:30 AM - Till?
Preview: 8:00 AM 8/19 Day of Sale
An eclectic assortment of vintage estate antiques, art, jewelry, pottery, and more. Vintage Lighting, Slag Glass Lamps etc.; Golden Oak Roll Top Desks and Barrister Bookcase; Mid-Century Modern Furnishings; Arts & Crafts; Old Clocks; Royal Doulton Dogs and Figures; 19th C Furnishings, Tiger Maple & more; Waterford; Sterling; Assortment of Oriental Rugs; Bally Slot Machine; Easy Copper Washing Machine; Miniature Cottages; Austrian Stamp Sheets; Tools; Gemstone Jewelry; Cameos; Pearls; and MUCH Vintage Costume Jewelry as well. Lots of Surprises! Trucks arriving all the time! Please CHECK THE WEB daily as 2 Trucks are yet to arrive from South Florida for this Auction!

Over 60+ Quality Works of Art: Oils, WCs, Prints and Etchings. Many works by listed artists such Alfred GOEKEL; Vassilieff KADIK; Pierre NUYTTENS; Itzchak TARKAY; Marko MAROVICH; Japanese Woodblocks and more, all selling at NO Reserves. These Estates Must Be Sold! It's going to be another GREAT DAY AT THE AUCTION! See You There!
Calling all E-Bayers! This is "THE PLACE TO BUY!!
NOTE: Only about 40% (for real!) of what is available on Saturday is represented in this Flyer. Please check the Web Site, better yet, come see us at the preview as well. As always, guaranteed to be way more than we could ever sell… Furniture & Art beginning at 8:30 AM. Requests taken at 10:00 AM. ABSOLUTELY NO RESERVES!

Quality Consignments Always Welcome 727-821-1167


Just a small sample..
15% Buyer's Premium in Effect 3% Discount Cash or Check same day payment
Always Accepting Quality Consignments 727-821-1167
burchard galleries home | calendar of events | bid information | directions
mailing list | consignment info | Auction archives | site map | the company
All rights reserved. Copyright © Burchard Galleries, Inc. 1996-2017
Florida License #AU322/AB169