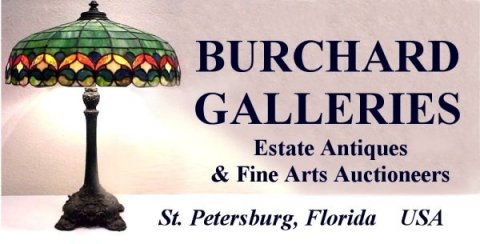 ---
Offices & Showroom - 2528 30th Avenue North - St. Petersburg, Florida 33713
727-821-1167 1-800-520-2787 (ARTS)
We offer tremendous exposure for your items! Items We Need Now
All Sunday Auctions held with a live gallery audience as well as 2 Live Internet Bidding Platforms accepting bids for your items up to 10 days prior to the Auction and in real time during the Auction with World Wide participation!
We also offer...
● In home consultation without obligation
● Full Page International Advertising in Antique Trade Publications, 20,000+ paid subscribers!
● Aggressive Internet Marketing:
1) Facebook, Twitter, Linkedin, Pintrest and more...
3) Strategically placed bulletins in on-line Auction Calendars, Auctioneer Association Web-sites and newsletters.
● Targeted First Class Direct Mail Brochures. Our mailing list is 33,000+ strong!
● Check out our

last nineteen years of successful Auctions…

Auction Archives
● Major Metropolitan Newspapers: Tampa Tribune, Tampa Bay Times, and Sarasota Herald
● Live Sunday morning Antiques call in Radio Call Show: 10-11 am on WGUL 860 AM Live on line www.am860theanswer.com

A successful Auction doesn't just happen, It's planned that way. May we plan an Auction for you?
To become a seller at the next Burchard Galleries Auction Event
727-821-1167 800-520-2787 (ARTS)
E-mail Us
All rights reserved. Copyright Burchard Galleries 1996 - 2022