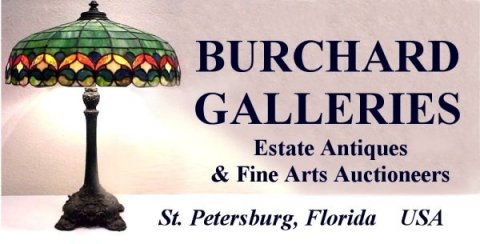 ---
Offices & Showroom - 2528 30th Avenue North - St. Petersburg, Florida 33713
727-821-1167 1-800-520-2787
On Site Marathon Multi-Estate Vintage Antique & Discovery Auction
Saturday March 25th, 2016 @ 8:30 AM - Till?
Preview: 8:00 AM 3/25 Day of Sale
Shop the Best Kept Secret in St. Petersburg… SAVE THE DATE! A Must See Event!
An eclectic assortment of vintage estate antiques, art, jewelry, pottery, and more. Victorian Glass; Barrister Bookcases; Oak Side By Side Buffet Display Cabinet; Early Work Tables; 6 Late 18th Century Queen Anne Pad Foot Side Chairs: Modern Furnishings: Matteo Grassi Leather & Chrome Chairs; Knoll and Pr Barcelona Chairs W/ Ottomans; Mid-Century Sectional; Modern Office Furniture; Vintage Lighting, Bradley Hubbard and Oil Lamps; Coins & Currency; Old Clocks; Wicker; 19th C Carved Paw Foot Dresser & Canopy Bed; Waterford; 18th C Koran; Pre Columbian Pottery; Sterling; Copeland Spode; Baseball Steroview Cards; Dolls & Doll Houses; Child's Wakefield Wicker; Folk Art Toys; Ram Weathervane; Carved Birds & Decoys; Swarovski Crystal; Lalique; Huge Assortment of Oriental Rugs!; Satsuma Porcelain; Japanese Short Sword; Oriental Kimonos; Zebra Chair; Patio Furniture; Dillingham Art Deco Cedar Chest; Mahogany Floor Model Columbia Grafonola; Irice Cut Glass Perfume Bottles; Rococo Sterling Cherub Mirror; Estate Gold and Silver, Gemstone Jewelry; Cameos; Pearls; and Vintage Costume Jewelry as well. Lots of Surprises! Trucks arriving all the time! Please CHECK THE WEB daily as 2 Trucks are yet to arrive from South Florida for this Auction!

Over 100+ Quality Works of Art: Oils, WCs, Prints and Etchings. Many works by listed artists such as George HARVEY; Joan MIRO; Anton MULLER; Leroy NIEMAN; Mark Van Epps Life Size Sculpted and Painted Plaster Woman; Pablo PICCASSO; Currier Ives; Clown Paintings; Japanese Woodblocks and Erotic Oriental Prints; and more, all selling at NO Reserves. These Estates Must Be Sold! It's going to be another GREAT DAY AT THE AUCTION! See You There!
Calling all E-Bayers! This is "THE PLACE TO BUY!!

*NOTE: Only about 30% (for real!) of what is available on Saturday is represented in this Flyer. Check Auction Zip for a list (new). Please check the Web Site, better yet, come see us at the preview as well. As always, guaranteed to be way more than we could ever sell… Furniture & Art beginning at 8:30 AM. Requests taken at 10:00 AM. ABSOLUTELY NO RESERVES!

Quality Consignments Always Welcome 727-821-1167


Just a small sample....
15% Buyer's Premium in Effect 3% Discount Cash or Check same day payment
Always Accepting Quality Consignments 727-821-1167
burchard galleries home | calendar of events | bid information | directions
mailing list | consignment info | Auction archives | site map | the company
All rights reserved. Copyright © Burchard Galleries, Inc. 1996-2017
Florida License #AU322/AB169