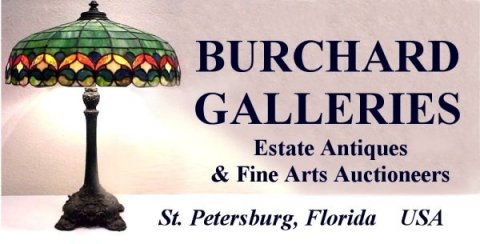 ---
Offices & Showroom - 2528 30th Avenue North - St. Petersburg, Florida 33713
727-821-1167 1-800-520-2787
Colossal On Site Multi-Estate Vintage Antique & Discovery Auction
Saturday December 15th, 2018 8:30 AM- Till?
Preview: 8 AM 12/15 Day of Sale
Featuring a stellar assortment of vintage Estate Antiques, Artwork, Jewelry, Pottery, & More! A statewide assemblage of over 450 quality lots! Fantastic Victorian Furniture & Costume Jewelry from the estate of Barbara Loyce Ward (Green / Donovan) Ringling Circus Star; Stained Glass Windows; Black Forest Lacquered Tilt Top Table; Bow Front Cabinet; Brown-Jordon Patio Tables; Carved Asian Panels; Carved and Pierced Southeast Asian Coffee Table; Carved Swan Chair and Tea Table; Cherry Work Tables; Highly Carved Chinese Dining Suites (2); Chinese Marble Top Stands; Much Cloisonne; Chippendale Chair, Ottoman, and Block Front Desk; Big Chopping Block; Eastlake Loveseat; Chocolate Cabinet; Deco Curio; Comb Back Windsor Chair; Egyptian Revival Carved Mahogany Loveseat; Florentine Tea Cart; French Fauteuils; Hitchcock Bench; Large Game Table (Poker); Large Oak Scottish Chest; Leather Button and Tufted Recamier; Inlaid Mahogany Fall Front Desk; Mid-Century Modern Nesting Triangular Teak Tables; Nut Cracker Stools; Oak Extension Leaf Dining Table; Pr of 19th C Cherry Beds; 8 Rush Seat Chairs; Barstools; Silver Chest on Stand; Southeast Asian Door Panels; Spice Cabinet; Spinning Wheel; Stacking Oak Bookcases; Swan Base Glass Top Table; Tiger Maple Chairs and Corner Cabinet; Tuscan Settee; Victorian Cradle; Contemporary Wine Cabinet; Wells Fargo Strongbox; Tremendous Lot of Old Books, Children Books, Miniature Books, etc.; 19th Century Coverlet; Japanese Kimono; Marble Top Tables; Ruby Glassware; Vintage Slag Glass and Reverse Painted Lamps; Cut Glass Basket; Folk Art Firkin Basket: Hingham, Mass; Metal Mounted Enameled Glass Punch Bowl; Mickey Mouse Paper Weight; Royal Crown Derby; Many Rare Old Clocks: Black Forest Clock, Victorian Mantle Clock, etc.; Antique Coins; Early Andirons; Old Locks; Postcards (1912 Kentucky Derby and more); Golfing Trade Cards; Microscope; Edison Player; Longwy Deco Dresser Box; Motorized Scooter; Singer Feather Weights; Japanese Bronze Jardiniere and Pedestal; California Pottery; Delft Chargers; Copper Pots; Haeger Pottery; Large Lot of Hummels; Lenox Butterfly Meadow China; Camel Plant Stand; Large Oriental Fish Bowl with Stand and Plant; Lladros; Peruvian Pottery; Roseville Jardiniere and Pedestal; Villeroy & Boch Charger with Deer; Tahitian Black Pearl Jewelry; Cloisonné Ceremonial Cup; Multi Part Dragon Sculpture; Antique Argand Lamps; Caramel Slag Glass Lamp; Golfer Lamps; Huge Bronze Deco Style Bronze Floor Lamps; Cameo Glass Lamps; Enameled Ruby Glass and Mounted Crystal Lamps; Pr of Bronze Cranes; Copper Samovars; Gold Wash Stainless Flatware by International; 50+ LLADROS sold in lots!) 14K Gold Filigree Edwardian Jewelry; Ladies Travel Case with Sterling Silver; Pulsar Led Men's Watch; Silver Epergne; Silver Filigree Box; Much Miscellaneous Sterling; Diamond and Gemstone Jewelry and LOADS of Vintage Costume Jewelry! An Amazing Auction you won't want to miss!

Also, 150+ Quality Works of Art: Oils, WCs, Prints & Etchings, Lithographs, Woodcuts, John BEARDSLY Surreal Watercolor & Etching; BOUTON Pastels; John CARBINO Circus Riders; John Stewart CURRY Lithographs; Salvador DALI; DUAIV Lithographs; GOULD Bird Prints; JABLONSKY Lithographs; Curtis JERE Signed Wall Art Sculpture; LEBEDANG Prints; Thomas MC KNIGHT Serigraphs; Pablo PICASSO; Wooster SCOTT; SOYER Lithograph; Old Frames; Air France Poster; Architectural Prints; Fox Hunt Engravings; Japanese Woodblocks; Marble Childs Sculpture Bust; Mongolian Falconer Drawing Signed; Print Le Papillon;; Japanese Woodblocks; and more.. All selling at NO Reserves. These Estates Must Be Sold!
Calling all E-Bayers! This is "THE PLACE TO BUY!!
Quality Consignments Always Welcome 727-821-1167
Just a Sample...
sSunday December 16th Auction Catalogs
Always Accepting Quality Consignments 727-821-1167
burchard galleries home | calendar of events | bid information | directions
mailing list | consignment info | Auction archives | site map | the company
All rights reserved. Copyright © Burchard Galleries, Inc. 1996-2019
Florida License #AU322/AB169