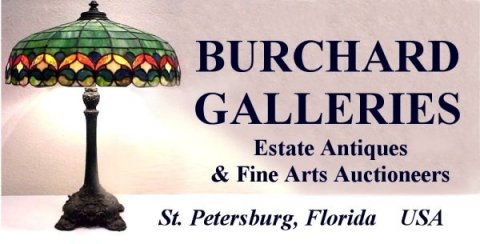 ---
Offices & Showroom - 2528 30th Avenue North - St. Petersburg, Florida 33713
727-821-1167 1-800-520-2787
On Site Multi-Estate Vintage Antique & Discovery Auction
Saturday January 13th 10 AM - Till?
Preview: 8:30 AM 1/13 Day of Sale
Fine Art Only Catalog to Date | Flyer Page 1 | Flyer Page 2 | Absentee Bid Form
Absentee Bids Welcome
Soooo Much to sell! 450+ lots! A massive assortment of eclectic Vintage Estate Fresh Antiques, Fine Art (100+ lots), Jewelry, and more. Mega Perfume Bottle Collection; Waterford; Lalique; Swarovski; Antique Advertising, Tobacco, Coke, Royal Crown and Budweiser Signs; Country Collectibles; Vintage Lighting; Flow Blue; 19th C Plantation Desk; Coca Cola Coolers and Collectibles; Gumball Machine; Pay Phone; Art Deco Furnishings; French Vitrines, Tiger Oak Chests, Larkin Desks, Country Cupboards, and Barrister Bookcases; Huge Butcher Block; Table Top Corner Etagere; Stained Glass Windows; Antique Toys; Old Banks; Inkwells; Collector Car Wall Displays; Mixed Metal Tureen; Pennsylvania German Folklore Society Books; Cast Iron School Bell; Haviland China Serving Pieces; 4 Italian Talon Modern Chairs; Early Gothic Revival Style Chair; Trumeau Mirror; Danish Modern; Large Royal Bonn Vase; MANY Lladro Figurines; Zsolnay; Blanc De Chine Figural Swan Lamp; Van Briggle Lamp, Original Butterfly Shade; Theodore Olsen Silver; Lenox Ornaments; Mother of Pearl Fish Set; Cut Glass to Include Libby, Hawkes and Clark; Vaseline Glass; Art Glass; Camera Collection; MANY Royal Doulton Figures; Cranberry Glass; Cloisonne; Oriental Black Lacquer Etageres; Heriz and Nichols Oriental Carpets; Harley Davidson Women's Motorcycle Helmet; Victorian Cast Iron Chairs and Ornate Brass Bed; Abercrombie Fitch Gambling Game; Carved Duck Decoy; Luxurious Furs: Sheared Beaver, Cuffed Mink, Persian Lamb and more; 14k Braided Heart Serpentine Necklace; 14k Sapphire and Diamond Ring; 18k Garnet and Diamond Ring; 14k Amethyst and Diamond Ring; 14k and Diamond Earrings; Lots of Silver and Costume Jewelry; George Zee Jewelry Case; Rhinestone Jewelry and Lots of Surprises! Trucks arriving all the time! 250+ photos on line. Please CHECK THE WEB daily!

Quality Works of Art: Oils, WCs, Prints and Etchings. 120 lots, many works by listed artists such as Claire ALLEN; Marcia Burnett BOUTON; Mark CHEVALIER; William CORASICK; Melanie Taylor KENT; Peter MAX; R. PERRY Landscape Oil; Pablo PICASSO; Luigi SERALI; Disney Artist Giclee; George TUDZAROV Raku Sculpture; Oriental Paintings; Lion Bronzes; Religious Oil/Tin; all selling at NO Reserves. These Estates Must Be Sold! It's going to be another GREAT DAY AT THE AUCTION! See You There!

*NOTE: Only about 20% (for real!) of what is available is represented in this notice. Please check the Web Site, better yet, come see us at the preview as well. As always, guaranteed to be way more than we could ever sell… ABSOLUTELY NO RESERVES!

Quality Consignments Always Welcome 727-821-1167


Just a small sample..
15% Buyer's Premium in Effect 3% Discount Cash or Check same day payment
Always Accepting Quality Consignments 727-821-1167
burchard galleries home | calendar of events | bid information | directions
mailing list | consignment info | Auction archives | site map | the company
All rights reserved. Copyright © Burchard Galleries, Inc. 1996-2018
Florida License #AU322/AB169