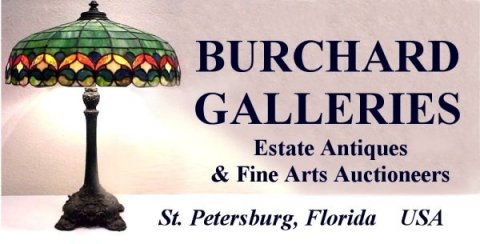 ---
Offices & Showroom - 2528 30th Avenue North - St. Petersburg, Florida 33713
727-821-1167 1-800-520-2787
New Years On Site Only Multi-Estate Antique & Discovery Auction Extravaganza
Saturday January 11th, 2020 10 AM- Till?
Preview: 1/11 9:00 AM - End of Sale
Over 400+ lots to include an Estate Fresh assortment of Vintage Estate Antiques, Artwork, Jewelry, Pottery, & more arriving at the gallery right on up to Auction Day. ALL sold at No Reserves.

Art Nouveau Etagere & Parlor Table; American Victorian Dresser; Antique Scottish Bidet; 19th Century Butler's Bookcase Secretary Desk; British Made Spool Wardrobe; Chinese Blanket Chest; Chinese Yellow Ground Garden Seat; Chinese Nesting Tables; 3 Drawer Pine Crest; Flat Art Storage Cabinet; Floral Carved Cheval Mirror; Large Antique Empire Mirror 18th Century Mirror; Marble Top Victorian Table; Marble Pedestal; Stacking Oak Bookcase; Crystal & Iron Chandelier; Prismed Iron Chandelier; Raymond Frederick Moderne Chandelier; Lebarge Mirror; Frog & Horse Lamps; Blue and White Dragon Jar; Carved Chinse Brushpot; Chinese Floral Tureen; Carved Jade Buddha; Cloisonne; Mah Jong Set; Carved Sphinx/ Scarab Stamp Figure; Silver Overlaid Cranberry Decanter; Calle Porcelain Centurion Figure; Mettlach Portrait Vase; Lladro Figures; Meissen; Royal Doulton Animals; 50 Doultons needing minor repair; Gone with the Wind Royal Doulton; Rare Royal Doulton Figurine Les Saisons "Ete" HN 3067; Baccarat, Waterford & Versace Crystal; Royal Rudolstadt; Victorian Glassware; Wedgwood; 8 Pc. Belleek Tea Set; Lenox China; Minton China; Tea Caddies; Ornate Wall Sconces; "Hallmark" Christmas Ornaments; Shirley Temple Memorabilia; Northwood Humidor; Pig Weathervane; 2 Piece Beadwork Figure and Bottle; Duck Decoys; Oak Regulator Clock; Marble Clock; Tiffany Travel Clock; Stained Glass Panels; Powder Horn; CSI New York & Henry Mancini Autographs; Johnny Mize Autograph; Sports Cards & Memorabilia; Baseball Cards; Dom DiMaggio Baseball; Stan Musial Baseball; Gorham Sterling; Antique Purses, Mandarin etc.; Stetson Hat & Box; Large Amethyst Glass Collection; Brass Scale; Small Diamond Scale; Uncirculated Coins; Cross Pen Sets; Sterling & 14K Tiffany Pens; Victorian Pen Set Drafting; Minerva Pocket Timers; Furs; Tiffany & Misc. Silver; Armani Chronograph Watch; Eternamatic Watches; 10K Gold Pocket Watch; Gucci & Helbros Watches; Louis Vuitton Ladies Watches; Von Paul Watches; 14K .30 CTW Diamond Ring; 18K 1.25 CTW Diamond Ring: 2 Tone Ring Contains 103 Round Brilliant Cut Diamonds; Costume Jewelry to Include Hattie Carnegie; 3 Piece Gold Frog, Fish & Butterfly and more..

Also, 100+ Quality Works of Art: Oils, WCs, Prints & Etchings, Lithographs, Tin Types, Japanese Woodblock Prints; Woodcuts, etc. to include: Art Books Collection; Sunol ALVAR Prints; John BAEDER; Carolyn BECKER Cheese Cloth Sculpture Relief; Jerry BURCHFIELD; ERTE "Phoenix Reborn"; DURAND Rembrandt Etching; Carved Bust of Child; Clay Workshop by Vitalino FILHO; Oranges by GIFFORD; Lawrence GOLDSMITH; Golfing Prints; Highwaymen Art Boards; William Berry HARRISON Engraving; Claude HOUK; Cornelia HUFFER; Large Print "Lady in Gold" by Gustave Klimt; Lee Long LOOI; Alan MALEY; James MICHAELS; Carl NICHOLS; Katsuyuk NISHIJIIMA; Lithographs After Audubon; Oriental Miniatures; R.L. PALLISER; Paris Street Scene Oil/Canvas; Henry PLAWIN; N. PIONTKOVSKI; PRANG Chromolithograph of a Boston Terrier; Semi-Nude Dandelion Bronze Woman; Zamy STEYNOVITZ Print; Itzchak TARKAY; Clifford WRIGHT; Florida Landscapes; & MORE!!

*NOTE: More arriving! Only about 30% of what is available on Saturday is represented here. Please check the Web Site, better yet, come see us at the preview as well. Furniture & Art beginning at 8:30 AM. Art requests at any time. All other requests taken at 10:00 AM. ABSOLUTELY NO RESERVES

Calling all E-Bayers! This is "THE PLACE TO BUY!! Absentee Bids Accepted
Quality Consignments Always Welcome | 727-821-1167 | mail@BurchardGalleries.com
Just a Sample...
Always Accepting Quality Consignments 727-821-1167
burchard galleries home | calendar of events | bid information | directions
mailing list | consignment info | Auction archives | site map | the company
All rights reserved. Copyright © Burchard Galleries, Inc. 1996-2020
Florida License #AU322/AB169