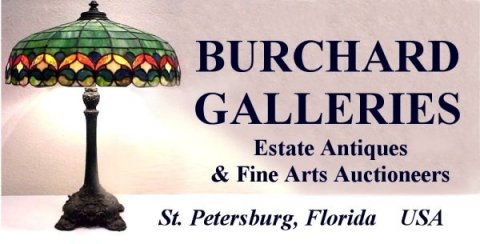 ---
Offices & Showroom - 2528 30th Avenue North - St. Petersburg, Florida 33713
727-821-1167 1-800-520-2787
Colossal, On Site Only Multi-Estate Vintage Antique & Discovery Auction
Saturday January 12th, 2018 9:00 AM- Till?
Preview: 8 AM 1/12 Day of Sale Flyer1 | Flyer2 | Art Catalog
Happy New Year!! Got Cabin Fever? Don't miss this Action-Packed Auction featuring a stellar assortment of vintage Estate Antiques, Artwork, Jewelry, Pottery, & More! A statewide assemblage of over 400 quality lots! Items from the estate of Barbara Loyce Ward (Green / Donovan) Ringling Circus Star as well as 20+ estate entities to include items such as; Large Budweiser Advertising Horse; Alex Locadia Lamp; Large Ornate Scales of Justice; Great Carved Oak Bow Front China Curio; Carved and Pierced Southeast Asian Furniture; Oriental Silver Cabinet; French Leather Top Carved Card Table with 4 Louis XVI Carved Chairs; Carved Swan Chair; Cherry Work Tables; Highly Carved Chinese Dining Suites (2); Chinese Marble Top Stands; Oriental Black Lacquer Bar, Folding Screen and Bar; Cloisonne; Carved Chippendale Chairs; Eastlake Parlor Set; Deco Curio; French Fauteuils; Large Oak Scottish Chest; Petite Victorian Etagere; Leather Button and Tufted Recamier; Mid-Century Modern; Tiger Maple Chairs and Corner Cabinet; Swarovski Horses; Roseville and Moorcroft Pottery; Royal Scotland, Moritz Zdekaur and Lenox China; Old Books, Ruby Glassware; Vintage Leaded, Slag Glass and Reverse Painted Lamps; Luigi Onesto Italian Glass; Wrought Iron & Marble Foyer Table; New York Yankee Photos; Wicker Floor Lamp; Henry Ford Museum Block Front Desk; Tuscan Settee; Cut Glass Baskets; Wedgwood Collection; Opalescent Glass; 50+ pcs Cobalt Glass; Many Rare Old Clocks; Bose 401 Direct Reflecting Speakers; Postcards (1912 Kentucky Derby and more); Lucky Coin Machine; Carved Oak Bowfront; Woodsman Iron Doorstop; Barbie Collection with Twist & Turn Barbie, Dream House, Midge, Ken & more; Honey West Doll; Exceptional Framed Antique Fans; Burmese Kalagas; Ships Lights and Cannon; Golfing Trade Cards; Bausch & Lomb Microscope; Civil War Powder Horn & Bayonet; Advanced Collection 200 Pc Fenton Glass, much sold in lots of 20-30 pcs; Delft Chargers; Villeroy & Boch Charger with Deer; 50+ LLADROS (many sold in lots!); Cartier Perfume; 14K Gold Filigree Edwardian Jewelry; Much Miscellaneous Sterling; Diamond and Gemstone Jewelry; Tiffany Silver Jewelry; This is a Gold buyers dream!; and LOADS OF VINTAGE ESTATE FRESH COSTUME JEWELRY: Bakelite, Miriam Haskell, St John, Mazer, Hattie Carnegie, Clara Beau and More! An Amazing Auction you won't want to miss!

Also, 150+ Quality Works of Art: Oils, WCs, Prints & Etchings, Lithographs, Woodcuts, John BEARDSLY Surreal Watercolor & Etching; 20+ Marcia BOUTON Estate Pastels; Charles BRAGG; Daniel CHUN; John Stuart CURRY; Salvador DALI; DUAIV Lithographs; GOULD Bird Prints; Louis ICART Nude Etching "Eve"; JABLONSKY Lithographs; Curtis JERE Signed Wall Art Sculpture; LEBEDANG Prints; Thomas MC KNIGHT Serigraphs; PICASSO; Francesco PIRANESI Etchings; Large Hudson River O/C; Old Frames; Air France Poster; Large Cat Paintings; Architectural Prints; Japanese Woodblocks as well as many illegibly signed and unsigned works of art all selling at NO Reserves. These Estates Must Be Sold!

*NOTE: More arriving! Only about 15% (for real!) of what is available on Saturday is represented here. Please check the Web Site, better yet, come see us at the preview as well. Sale begins outside under the big top selling furniture, table loads and large items. Many surprises here! Art, smalls and jewelry inside thereafter. Art sold in catalog order. Sale ends? ABSOLUTELY NO RESERVES
Calling all E-Bayers! This is "THE PLACE TO BUY!! Absentee Bids Accepted
Quality Consignments Always Welcome | 727-821-1167 | mail@BurchardGalleries.com
Just a Sample...
Sunday January 27th Auction Catalogs
Always Accepting Quality Consignments 727-821-1167
burchard galleries home | calendar of events | bid information | directions
mailing list | consignment info | Auction archives | site map | the company
All rights reserved. Copyright © Burchard Galleries, Inc. 1996-2019
Florida License #AU322/AB169