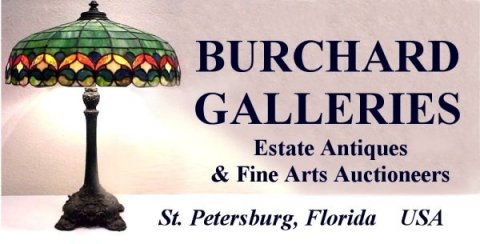 ---
Offices & Showroom - 2528 30th Avenue North - St. Petersburg, Florida 33713
727-821-1167 1-800-520-2787
On Site Only Multi-Estate Antique & Discovery Auction Extravaganza
Saturday February 22nd, 2020 8:30 AM- Till?
Preview: 2/22 8:00 AM - End of Sale
Over 400+ lots to include a stellar assortment of Vintage Estate Antiques, Artwork, Jewelry, Pottery, & more that will be arriving at the gallery right on up to Auction Day. ALL sold at No Reserves. Antique Heywood Wakefield Wicker Rocker; Bradley Hubbard Banquet Lamps; Country Sheraton Stand; Cow Hide Bench; Large Estate Collection of Czech Lalique Style Art Glass: Nudes, Perfumes, Monumental Vase; Custom Cypress Coffee Table; 19th C Dry Sink; Empire 4 Drawer Chest; Early Gold Carved Mirror; Empire Sewing Stand/Desk; French Curio Cabinets; Iron Nouveau Fern Stand; Cast Iron & Cement Plant Stands; Metal Mounted Marble Top Bombe Commodes; Oak Dining Chairs; Oriental Carved Trunk; Shaker Style Corner Cabinet; Spice Cabinet; Victorian Mother of Pearl Boxed Flatware; Woodard Cast Iron Coffee Table; Afghanistan Copper; Deco Agate Floor Lamp; Cement Cherub Lamps; Archaic Style Jade; Dragon Cloisonne; Early Chinese Chops; Trinidad Double Chocolate Mint Box with Handle; Wood & Wrought Iron Strong Box; Wagon Weathervane; Large Green Olive Oil Bottle; Cambridge Farber Ware Set; Garibaldi & Staffordshire Porcelain; Halian Pottery; Hummels; Phillip Mayberry Ceramic Bowl; Stoneware Food Molds; Porcelain Frog Band; Royal Copenhagen, B&G & Lladro Figures; Pat Sur Pate Plaques; 7 Pc Lladro Nativity Figures; Royal Doulton Vases; Roseville; Wedgwood; Wessel German Porcelain; Antique Flower Frogs; Art Glass; Antique Cut Glass Pitchers; Hawkes Bowl; Bohemian Cut to Clear Glass; Orrefors Glass; Lead Crystal Decanters; Franklin Mint Crystal Animals; Majolica Tree Trunk Pitcher; Punchbowl, Ladle & Cups; Singer Featherweight; Glass Panel and Hanging Lamp; Steuben Glass & Hand Coolers; Waterford; Tiffany Crystal; Princess Diana & Charles Carleton Ware Wedding Mugs; Stylized Dolphin Iron Panel; Stetson Derby Hat; 10 Iron Wagon Wheels; Astro Explorer Telescope by Meade; Bass Guitar by Guitar Research; 7 Fire Copper & Brass Fire Extinguishers; Folky Painted Wood Gameboard; Huge Antique Scale Collection: Bronze Scales of Justice, Hanging Brass Scale, Postal Scales, Micro Meter Scale; Scale Weights; Knights of Columbus Sword; Tree Measuring Sticks; Antique Pennsylvania Dry Sink; Horn/ Antler Collection; Antique Kitchen Utensils; Apple Peelers; Brazilian Silver Slave Bracelets; Antique Reference Books; Doll Value Books; Autographs; Bronze Sconces; Antique Marbles; Deco Dress Form; Singer Featherweight; Cartier Sterling Salt & Peppers; Collection of Silverplate; Silver Coins; Sterling Handled Silver Steak Knives; Silver Mounted Jug; Silver Souvenir Spoons; Amber Necklaces; 14K Gold Amethyst Bracelet; 10K Ruby Bracelet; Sterling & Costume Jewelry; etc.

Also, 75+ Quality Works of Art: Oils, WCs, Prints & Etchings, Lithographs, Tin Types, Japanese Woodblock Prints; Woodcuts, etc. to include: Over 20 Decorative Bronze Figures; Austin Productions Standing Nude; Ruffino BESSERDICH Bronze; Bronze Lions; Bronze Crane Sculpture; Dolphin Sculpture Beth Sidebottom Young Girl Portraits; CHAGALL Poster; Allen FONTAINE; Frank GALUSZKA; William Berry HARRISON Engraving; Robert HELD Glass Vase; Alfred HERZFIELD; HIGHWAYMEN Art Boards; Curtis JERE Sailboat; Large 19th Century Portrait of Gentleman; D. LYNCH; Over 25 Miniature Frames; Ben STILL; Terracotta Bust of Victorian Woman; Joe TESTASECA; Prints; Inagakai TOSHIJIRO Woodblock & MORE!!
Just a Sample...
Calling all E-Bayers! This is "THE PLACE TO BUY!! Absentee Bids Accepted
Quality Consignments Always Welcome | 727-821-1167 | mail@BurchardGalleries.com
Sunday February 23rd 12 PM Estate Antiques Fine Art & Jewelry Auction
Preview: 2/22 1-6 PM 2/23 10 AM Consignments Welcome
Lifetime Estate Collections along with 100+ Artworks to include important Paintings, Prints, and Sculpture by Modern Masters as well as listed and exhibited Artists to include Anthony ACKRILL; Eric ARMUSIK; Maurice ASSELIN; Thomas BAILEY; Henry BISBING; Al BLACK; Andrew BONE; Gustavo BRICENO; Robert BUTLER; John William CASILEAR; John CONNER; John COSTIN; Charles DAHLGREEN; Alexander Joseph DAIWAILLE; Johnny DANIELS; Willie DANIELS; Julio De DIEGO; Enrique ERMUS; Charles HARPER; ERTE; Jean EVE; Charles FRIMODT; Salvatore GRIPPI; R.C. GORMAN; Eleonore GUINTHER; Constantine KEREMES; Isaac KNIGHT; Morris Walton LEADER; Misch KOHN; Mary LEISZ; Thomas LEUNG; Thalia MALCOLM; Kim MCCARTY; Roy MCCLENDON; MCKENNY HALL Indian Prints; Marcel MOULY; F. NAGY; Sam NEWTON; Guido ODIERNA; Willard PAGE; Markus PIERSON; Yola PILCH; Robert ROBINSON; Charles ROWE; Francesco SPICUZZA; Willem STEELINK II; Henri STENN; Derek WERNHER; Martin ZEROLO as well as many Florida Highwaymen Paintings with more items added daily

Also featuring a Tiffany Gilded Clock Garniture; Over 100 Important Lladro Figurines, some 15"+ h; 4 Early Longcase Clocks; Baccarat and Waterford Crystal; Steuben Excalibur; Old Books: 1815 German Bible, 1930's Mickey Mouse Magazines, Art Books; Early Furniture: Slant Front Desks, Bookcases; 3 Tier French Carved Step Back Cupboard; Stickley Bookshelf; Tiffany Zodiac Blotter Ends; Frederick Carder Era Yellow Jade Acid Cut Lamps; French Gilt Bronze Clocks; LeCoultre Atmospheric Clock; A phenomenal collection of Vintage Bicycles: Spaceliner, Schwinn Hornet, Schwinn Jaguar; Schwinn Corvette; 1947 Whizzer Motorbike; Antique Steam Engine; Coke Machines; Gas Pumps; Rookwood; Aztec Pinball Machine; MCM Furniture: Knoll, Bernard Rohne, Egg Chair, Modernica; Mary Gregory Glass; Pairpoint Candlesticks; Meissen; Exceptional Room Size Estate Oriental & Persian Rugs; Chinese Altar Table; Luxurious Furs; 75+ Lots of Fine Estate Jewelry: Spectacular Diamond Necklaces and Rings; Buecche, Uti, Tavannes, and Cartier Watches; Large Heavy Gold Bracelets, Silver, Platinum, Bakelite, Costume Jewelry and more. Watch for updates! It will most certainly be another "Unbelievable Auction Weekend"!
Consignments welcome for this and future International Antiques & Fine Art Auction Events
On Line Bidding Available Now!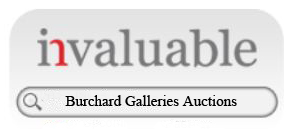 Always Accepting Quality Consignments 727-821-1167
burchard galleries home | calendar of events | bid information | directions
mailing list | consignment info | Auction archives | site map | the company
All rights reserved. Copyright © Burchard Galleries, Inc. 1996-2020
Florida License #AU322/AB169